How to choose a Domain Name: 9 important steps
Choosing the best domain name for your website is not easy at all, it needs time and best choice, because it will influence your business in the future. Here are the main steps on how to choose a domain name.
Choosing a domain name depends also on the kind of business you are building and the niche you want to have, so you need to keep in your mind a lot of considerations, it's like your identity on the web or it's your company name.
Computers rely on strings of numbers called IP addresses to find one another. If you typed in the right IP address, you'll arrive at the site you want to visit. 
But humans have a hard time remembering long strings of numbers, but you know what we are good at remembering? Words, and specifically, names. 
Because of that the domain name system was born with two main purposes, the same purposes that IP addresses have: To identify and distinguish web addresses and to locate web addresses.
How to choose a domain name?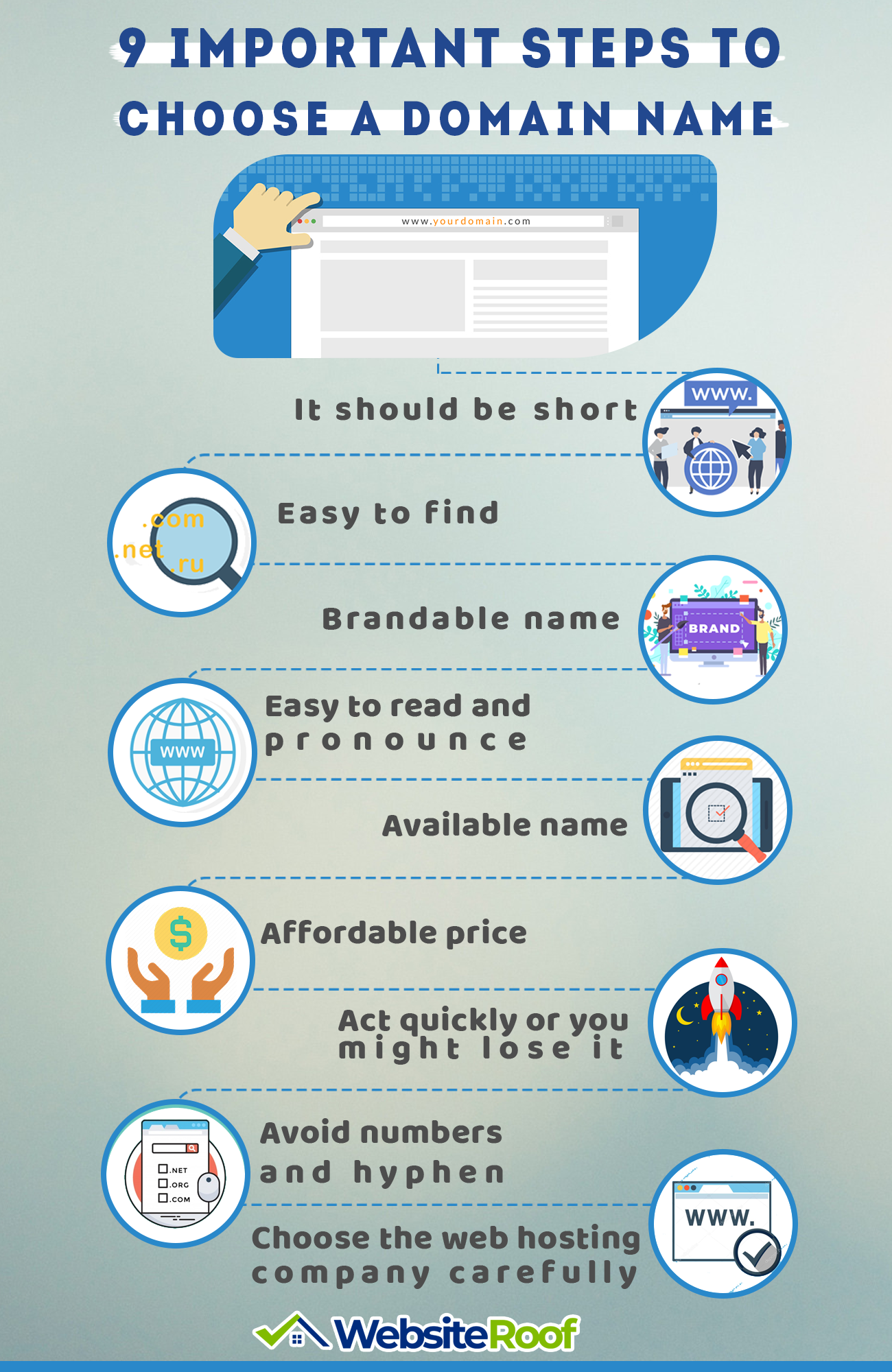 Here are 9 important steps to consider to choose your domain name:
1.It should be short
When you want to choose a domain name you should consider choosing a shore, simple, and predictable.
Remember that you want people to remember it.
2. Easy to find
That means you should choose a unique name but not a complicated one, because you want people to find it easily.
3. Brandable name
Your blog domain name must be unique, so you can stand out in your customers' minds.
Think about something catchy, get out of the box!
4.
Easy to read and pronounce
 It's important to be easy to spell and memorable. You don't want your customers to have hard times getting to your website.
5. Is your domain name available? 
Once you choose a domain name and you're just about to register it, first of all you have to make sure that the name is available.
You can do so by checking domain availability tools that are available in websiteroof.
6. Affordable price
Shop around to find the best price, make your own studies of how much you want to spend on the domain name.
Try our service at Websiteroof and check the prices there.
7. Act quickly 
It's a little bit complicated to find a domain name easily therefore, if you have found one that you like, then don't wait too long. 
You should know that everyday thousands of new domain names are registered in the whole world.
Did you know that Domain name registrations have grown by 13.5 million, or 3.9 percent, year over year?
8. Avoid numbers and hyphen
When you choose a domain name, we recommend avoiding numbers and hyphens, here's why you should do that:
Numbers will confuse people, for example: if you spell to someone your domain name with number three the customer will misunderstand how to write number 3 or the number three in letters. 

Each hyphen adds another word to your domain. For example: a two-word domain with one hyphen is actually three words because you have to say "dash" once, which means it takes longer to say and maybe it will take you to another website.
9.
Choose the web hosting company carefully
There are many domain registrars on the web. It's important to choose carefully because it can be difficult to move your domain later on.
Picking the right domain name is one of the toughest and most important decisions that you will face in getting your business  project in the market. Don't be scared, be patient and take all the time you need.
How to choose a domain name can have a great influence on your website, so make it wise.