5 Best Social Media Management Tools for 2021
Top 5 Social Media Management tools
If you do business on social media, then it is necessary to have Social Media Management tools. Social media has gained a lot of popularity these days, and many small businesses have been operating on the platforms of Instagram and Facebook. Although these platforms also provide users with various built-in Social Media Management tools, somehow there are some complications in them. Therefore, Social Media Management tools are designed, that allows the users to manage various social media platforms in a single platform. Isn't it convenient? Here are the top 5 social media management tools that will surely help you to manage your stuff.
Socialroof
FeedSpot Scheduler
Buffer
SEMrush Social Toolkit
Hootsuite
Websiteroof offers a smart social media management tool called Socialroof. It covers all the features of the competitors in the market. The software is specially developed to be integrated with all the social media platforms, and it also comes up with an unbeatable price. You get all the best features packed in this software, with less cost than the other software. The integrations are with the following social media sites:
Integrations with social media platforms:
• Facebook: Personal account, page, group, all types of posts, and Livestream.
• Instagram: All account types, all posts types including single picture post and multiple picture post, story, IGTV live, and even direct message.
• Twitter: All post types.
• LinkedIn: Personal accounts. Integration with pages is in the process – coming soon!
• Pinterest: All type of posts and pins
• Telegram: All type of posts
• YouTube
• Google my business
Simply, all your features under one roof! Where add up to 160 social accounts, 20 social accounts on each platform. Hit the nail on the head, plan, schedule, publish, and reply to social media content across multiple social channels at once.
Socialroof dashboard shows your audience analytics tracking age, country, and online presence. As well as, allows you to "group" your accounts and filter them according to business or according to the type of social platform which makes your experience smooth and efficient.
Primary Features:
No installations required
Size customizations
Business logo additions
 Text addition
Spintax support
Watermark support
Image Editor support
Cloud Import: Google Drive, Dropbox, One Drive
 File type: Photo, Video
Storage: 20480MB
 Max. file size: 1024MB
Audience analysis
Age tracking
Pricing:
Basic Plan: $14.99 per month
Advanced Plan: $44.99 per month
 Ultimate Plan: $69.99 per month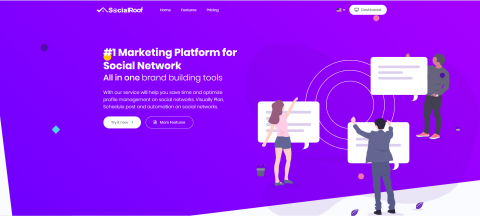 The Feedspot scheduler is suitable for those users who want to manage specifically Facebook, Twitter, and Linkedin only. This tool allows you to design and publish customized social media posts and campaigns. This tool schedules all the posts in advance that saves a lot of time.
Primary features:
Users can discover the relevant content based on the topics of interest
Designing social media posts
 Publishing of social media posts and campaigns
Scheduled posting
Management of all social media accounts
Pricing:
7 days' free trial
$19 per month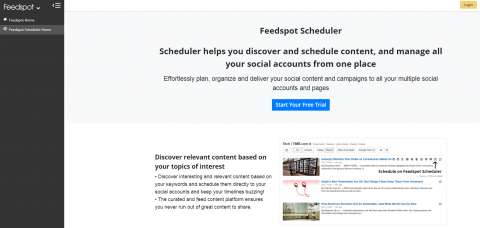 Buffer allows users to manage social media accounts from their own interface. Therefore, using this software, you can create, schedule, and repurpose posts, and also assign different permissions to team members. It is one of the best tools for apps integrations, and it might support software like Zapier, Feedly, IFFT, Pocket, or any other.
Primary features:
Social media management
 Create posts
 Schedule posting
 Repurpose posts
Apps integrations
Size Customizations
Text Additions
Profile management
Multi-media format sharing
 Agency/business planning
Analytics and insights
Pricing:
Pro Plan: $15 per month
Premium Plan: $65 per month
Business Plan: $99 per month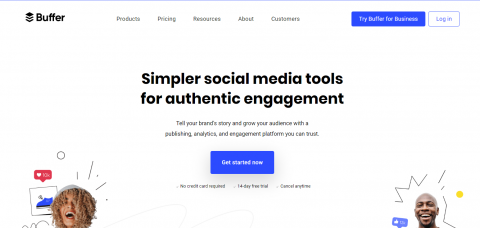 SEMrush is among the best platform for SEO audits. Through this software, you can monitor your content, and do keyword research. Social Media Toolkit is SEMrush's social media management tool that can schedule posts, edit images, and import from CSV files.
Primary features:
Social media management
On-page SEO
 Keyword Research
Link Building
Social media analysis
Schedule posts
Edit images
Create posts
Pricing:
Pro Plan: $99.95 per month
Premium Plan: $199.95 per month
Business Plan: $399 per month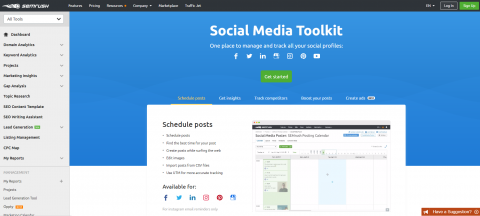 Hootsuite is compatible with over 35 social media networks. More network connections are available through the Hootsuite app directory. This tool has a full scheduler that does the posts at the scheduled time. There is also an RSS integration that allows you to check posts before they are published. Hootsuite has an approval process you can utilize too. In addition, users can use the feature of AutoSchedule.
Primary features:
Free social media training
Post scheduling
AutoScheduler
Analytics
Social Web monitoring
Custom social streams
Site integrations
Advertising features
Publishing features
Pricing:
• Professional Plan: $29 per month
• Team Plan: $129 per month
• Business Plan: $599 per month
The free subscriptions allow users to connect three social profiles on the platform.