5 BEST Social Media Management Tools to watch out for 2021
It's priceless when you can manage many social media in one platform. Here are the 5 BEST Social Media Management Tools to watch out for 2021
Websiteroof offers smart social media management tools called Socialroof. It beats all the alternatives in the market so far. With its integration with all social platforms and its unbeatable price!
This marketing platform is insane since it's integrated with:
Facebook:

Personal account, page, group. All types of posts and Livestream

Instagram:

all account types, all posts types including single picture post and multiple picture post, story, IGTV live, and even direct message!

Twitter:

all post types.

Linkedin:

Personal accounts. Integration with pages is in the process – coming soon!

Pinterest:

all type of posts and pins

Telegram:

all type of post

Youtube
Google my business!
Simply, all your features under one roof! Where add up to 160 social accounts, 20 social accounts on each platform. Hit the nail on the head, plan, schedule, publish, and reply to social media content across multiple social channels at once.
Socialroof dashboard shows your audience analytics tracking age, country, and online presence. As well as, allows you to "group" your accounts and filter them according to business or according to the type of social platform which makes your experience smooth and efficient.
Favorite features
No Downloads. You can use our service straight from the web on all browsers. So, you don't need to download or install anything other services. You can customize the size, add your own text, your business logo, and filters to the image from Socialroof platform
Spintax support

Watermark support

Image Editor support

Cloud Import: Google Drive, Dropbox, One Drive

File type: Photo, Video

Storage: 20480MB

Max. file size: 1024MB
Basic – $14.99/month

Advanced $44.99/month

Ultimate $69.99/month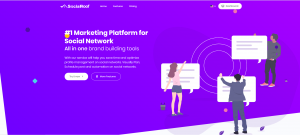 Quality over quantity. Feedspot social platform is perfect for those interested in Facebook, Twitter, and Linkedin only. It allows you to craft and publish customized social media posts. Simple design, for strong control of your social media content.
Scheduler is just like its name. Schedule all your posts in advance, save time and effort.
Most attractive, feedspot 7 days free trial allows you to explore their advantages by your self. No commitment needed or advanced payment information.
Favorite Feature
Feedspot proudly provides special pricing for registered nonprofits and charities. To apply for their nonprofit program you have to provide documentation of your current status.
A golden price of $19 per month.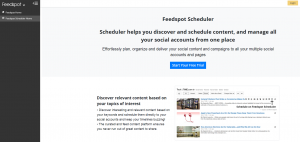 Buffer allows you to manage all your social accounts from their interface. You can create, schedule, and repurpose posts, and also assign different permissions to team members.
Buffer is fantastic for app integration.
If you use other intelligent software like Zapier, Feedly, IFFT, Pocket, or any other apps, there's a good chance it'll be compatible.
Buffer has three different sections – Publish, Reply, and Analyze.
Reply is an excellent solution for keeping up with conversations across your social media in one place.
Analyze offers a level of reporting which not included in the cheaper subscriptions.
Favorite Feature
You can customize the size, add your own text and filters to the image and post the images directly into your Buffer post creator.
Pro – $15/month

Premium $65/month

Business $99/month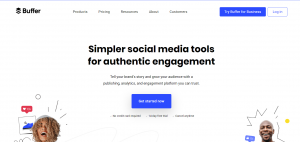 We all admit that SEMrush is a stellar platform for auditing your SEO efforts. As well as monitoring the performance of your content, and researching the right keywords to use. But many of us don't know about the social management tool.
Social Media Toolkit is a SEMruch social media management tool you can schedule posts, edit images, and import from CSV files.
They provide audience analytics tracking age, country, and online presence, and the types of content that work for them.
Favorite Feature
The competitor analysis tools in SEMrush are incredibly useful. You can find out which keywords they are using and the digital marketing strategies that work for them.
The pricing plan of SEMruch Social Toolkit
Pro $99.95/month

Guru $199.95/month

Business $399.95/month

Their free subscription allows you to connect three social profiles on the platform.
This means free PR opportunities for businesses that may only need to work across a small number of accounts.
On their publisher, you can compose posts and schedule them then release them across multiple social channels from one place.
There's also RSS integration. Which allows you to check posts before they go out. Hootsuite has an approval process you can utilize too.
If you pay for Pro, which is a waste budget for you to get enhanced analytics reporting, multiple team members and the ability to connect to more profiles and access to some premium apps, which give you greater functionality in the platform. Other brands provide the same feature with a way lower cost! Check out Websiteroof Ultimate plan.
Favorite Feature
The nice part of Hootsuite that you can find free social media training to help ensure you take full advantage of all the features of the platform.
Professional $29/month

Team $129/month

Business $599/month